MAINTENANCE FREE ROOFING SYSTEMS IN NASHVILLE
Contact us today for a FREE QUOTE!

MAINTENANCE FREE ROOFING SYSTEMS IN NASHVILLE
FOUR STEPS TO A VIRTUALLY MAINTENANCE FREE ROOF!
Though no roof is going to be maintenance free throughout its life, taking these four basic steps prior to roof system purchase and installation can significantly reduce life- cycle costs.
Most building owners think about their roof only when there's a problem—usually a leak. By that time, water has already caused damage to valuable merchandise, slowed production, and/ or caused a slip-and-fall accident. Once the damage is done, all the building owner can do is call a roofing contractor and get the roof repaired.
To avoid these costly, and often emergency, situations, some building owners invest in preventive roof maintenance programs, intended to catch minor problems before they lead to serious roof damage. But these seem expensive, given that most building owners have already purchased a 10-, 15-, or 20-yr. warranty on the roof system. What many building owners don't understand is that warranties often contain exclusions and require the owner to "properly maintain" the roof to validate the warranty.
Is there such a thing as a maintenance-free roof? The answer is, almost. Every roof system needs to be maintained in some way. For example, leaves and debris need to be cleaned from drains so water doesn't pool on a flat roof. However, by following four basic steps—getting involved in the roofing process, selecting a reliable roof system from a proven manufacturer, making sure the roof is properly designed, and choosing an installer who is trained and approved by the manufacturer— you can virtually eliminate roof maintenance.
STEP 1: Get involved and stay involved
Too often, building owners don't do their homework before selecting a roofing solution. They may rely on others, such as a contractor, architect, consultant, or purchasing department, to make the decisions. It is always better for the building owner to become educated so he or she can help make the purchasing decisions throughout the project. It's the building owner who has to "live" with and "pay" for the end result.
STEP 2: Select a quality roof system from a reliable manufacturer
With a multitude of roof systems to choose from, it may seem difficult to select one that will provide you with years, or even decades, of maintenance-free and energy saving performance. The key is to look for a roof that has a proven track record, has been producing positive roofs using the same formula for years, and can provide you with a list of completed projects of a similar size, system, location, and scope as your own.
Make sure the manufacturer is well-known in the industry and respected by top roofing contractors like APEX Building Company LLC. The manufacturer should also have direct field technicians available to assist with the job start and to conduct final inspections. This ensures that a manufacturer approved system has been installed.
STEP 3: Make sure your roof is properly designed
A roof can be designed to meet building codes, but still cause problems in the future. To help eliminate the need for maintenance on your roof and maximize life expectancy, there are a few things you should consider:
Slope. Build at least a minimum slope of one-quarter of an inch per horizontal foot
into your roof. Water that ponds on a roof can lead to problems and premature deterioration non-seamless roofs. A small hole in the roof membrane on a dead-flat roof could result in severe leakage and damage to the roof system.
Drainage. Drains should be located at roof low points to allow water to effectively run off. Secure the roof membrane and collar flashing with a clamping ring and cover with a basket to prevent debris from clogging the drain.
Penetrations. The fewer penetrations you have on the roof, the better. Locate HVAC units on the ground, if possible. Doing so will keep mechanics off the roof and reduce the risk of careless damage. Eliminate any odd-shaped penetrations such as I- beams. Allow enough space between clusters of penetrations so each penetration can be flashed individually.
Flashing and terminations. To ensure a durable, watertight roof system, vertical flashing using SPF should be extended at least 8 in. from the roof. Care should be taken to properly terminate and seal perimeter edges. Avoid using membranes that must be turned over vertical details and require multiple steps that could pose future maintenance issues. Develop roof details to minimize the reliance on joints, which is a common source of maintenance.
Walkways. Roofing manufacturers offer durable compatible walkway systems to protect the roof system from damage by other trades who traffic the roof to service HVAC units, plumbing, and communications equipment. Specify walkways and insist that they be used. APEX installs Yellow Spaghetti and fiber-coated walkways designate a traction control and safe path to rooftop equipment.
Membrane thickness. Heavily trafficked roofs or roofs in areas that are prone to damage require thicker roof membranes to provide additional protection. Apex Building Company LLC offers high tensile strength coating and fluid applied roofing solutions to meet this specific need.
Developing a Better Roof. Surveys conducted by Dr. Dean Kashiwagi of the Del E. Web School of Construction at Arizona State University and Dr. Rene Dupuis of the National Roofing Foundation revealed that SPF shows little sign of deterioration even after 30 years. Dr. Kashiwagi is the pioneer of the "Performance Based Procurement System" for buying best performing services/facility systems. Between 1983 and 1996, he surveyed the performance of more than 1,600 SPF roofs, which 97.6% did not leak and 93% had less than 1% deterioration while 55% of those roofs were never maintained.
In the most comprehensive roof survey ever performed by the National Roofing Foundation, Dr. Dupuis evaluated 160 SPF roofs. Dr. Dupuis concluded that SPF roofing systems appear to have a very high degree of sustainability with an indefinite life expectancy when properly maintained with periodic recoating. More than 70% of the roofs were applied over existing roofs. These findings indicate a properly maintained SPF Foam Roof can be expected to last the lifetime of the property.
STEP 4: Choose a trained, certified applicator
Today's roofing systems are becoming increasingly complex. To help ensure a quality installation, i.e., one that provides years of maintenance-free performance, building owners should hire a roofing contractor who is trained and certified by the manufacturer. Making sure your roofing contractor has completed contractor licensing, insurance and business registration is important to make sure you have an established professional. If they don't know how to run their business, then they probably don't know how to install a successful roof. Ensure that your roofing contractor is a good-standing member of Better Business Bureau, National Roofing Contractor Association and Spray Polyurethane Foam Alliance.
For a building owner, working with a manufacturer's best roofing contractor can help eliminate the cost and hassle of emergency roof repairs because these contractors are trained in the best ways to install that particular roofing system. APEX works with the manufacturer's technical representatives to review and finalize the details before our systems are installed. Some manufacturers also send their technical staff out to a job to monitor and inspect the installation itself. This can cut down on problems caused by difficult or challenging roofing systems.
Before selecting a contractor, consider holding a pre-bid meeting with the contractor candidates and the roofing manufacturer. This helps to ensure that everyone, including the building owner, is aware of the project logistics, the construction schedule, and that the bidders are using acceptable installation procedures and details. Make sure that the systems are equal in warranty, roof permit is included and, if needed, existing roof damage is removed to avoid future problems.
Roofs can be virtually maintenance free. A 'team approach' is critical to deliver long- lasting, headache-free roof systems. The owner needs to be involved throughout the process and partner with proven manufacturers and established roofing contractors. Although up-front costs are important, it is just as important to analyze life-cycle costs to make sure you are getting the best return on your investment.
A QUALITY ROOFING SYSTEM IS ALSO ONE THAT IS:
Easy to inspect and repair if needed. Exposed or non-ballasted roof systems, such as those that are coated or sprayed are best. These roofs simply require maintenance coatings every 10-20 years depending on the initial system specified. To repair hail damage simply cut the damage and caulk.
Doesn't require repatching or maintenance of seams, joints and penetrations. To perform well over the long run, some roof systems need to be periodically "repaired", a significant maintenance item that seamless systems don't require.
Has no seams. Seams are known to become maintenance issues later on. Spray polyurethane foam roofs, on the other hand, are seamless entirely and can withstand wind, weather, and time.
Eliminates waste. Often light-weight SPF roofs can be applied over an existing roof- membrane (i.e. the original membrane can be re-used), which prevents landfill waste. According to a 1999 survey by the National Roofing Contractors Association (NRCA), more than 68.5 percent of the low-slope re-roofing market includes tear-off and replacement of the existing roof membrane. According to the 2010 Roofing Market Forecast by TEGNOS Research for 2011 there is more than 2.5 Billion square feet of low slope and flat roofing structures in America. That means that approximately 1.7 Billion square feet will require tear-off and landfill waste unless we implement an environmentally-friendly SPF roof.
Can provide reflectivity, air barrier and energy savings. Positive return for a roof system can only be achieved using a seamless and insulated system like SPF. As energy prices continue to rise, investing in a sustainable SPF roof will ensure the maintenance required in the future will be paid in utility savings. The average payback for a spray polyurethane foam roof is 5-7 years.
To win a job, general contractors or roofing contractors may practice what's called "value engineering," a process in which they present a less expensive and often inferior product to the one specified. Although the upfront cost savings may seem appealing, in the long-run the less expensive alternative usually has a shorter life-cycle must be torn off for the next roof, or relies on inferior details, resulting in more maintenance. Spray polyurethane foam roofing has proven to withstand the test of time, eliminate future tear-offs diverting landfill waste, has the lowest lifecycle cost and highest energy savings of all modern roofing systems.
MAINTENANCE COSTS OF COMMONLY USED ROOFING SYSTEMS: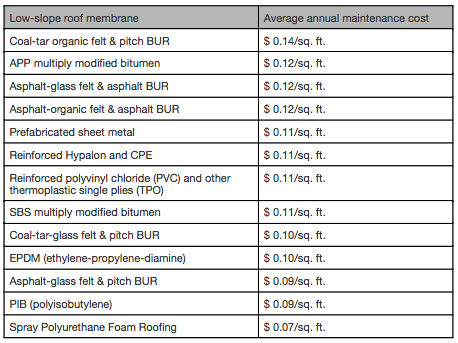 BUR = built-up roof; APP = atatic polypropylene; CPE=chlorinated polyethylene SBS=styrene butadiene styrene
Results of a 1996 study conducted by Simpson, Gumpertz, and Heger, Arlington, MA and San Francisco, CA, show the average annual maintenance costs per square foot for several commercial roofing systems. Keep in mind that a roof purchasing decision should be based on the life-cycle cost of a roofing system. Basing a decision solely on average annual maintenance costs or initial purchase/ installation costs can result in a roof that does not provide the best per-dollar value.
SPF roofing system study was performed in 2004 by Michelsen Technologies and involved a life-cycle analysis in five climate areas of the United States. Analysis of evidence led to the conclusion that the average SPF roofing system costs 15% to 50% less to install and maintain than a conventional membrane roof system over a thirty year period.